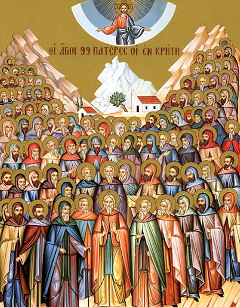 What, or who, do you think of when you hear the word "saint"? Is it a New Orleans football player? Just kidding, we're in SEC country. Maybe it's someone like St. Teresa of Calcutta, Saint Augustine, or another person who is renowned for their faith and work. Or maybe you just think of your mother (or someone else's mother) who is "such a saint."
On this All Saints Day, we must remember that true saints are those who don't point at their own work, who don't look at themselves, but are in Christ and continually pointing to Christ. They are ones awaiting the fullness of future glory while also being completely in the world or the ones who have persevered and are now with Christ in heaven.
In Ephesians 1:3-8, Paul writes
Blessed be the God and Father of our Lord Jesus Christ, who has blessed us in Christ with every spiritual blessing in the heavenly places, even as he chose us in him before the foundation of the world, that we should be holy and blameless before him. In love he predestined us for adoption to himself as sons through Jesus Christ, according to the purpose of his will, to the praise of his glorious grace, with which he has blessed us in the Beloved. In him we have redemption through his blood, the forgiveness of our trespasses, according to the riches of his grace, which he lavished upon us.
This passage leaves no doubt– our salvation is because of Jesus' work, not ours. It is his blood that redeems us, that makes it possible for our sins to be forgiven.
A saint is someone who first knows that they are a sinner, unable to save themselves.
But maybe that makes us a little uncomfortable. There's nothing we can do? Nothing we can merit? This can be hard for us to accept, especially in a world that continually tells us to "create" ourselves. When I drive downtown, I see a bright neon sign on the corner of Richard Arrington and 1st Avenue North that says "Do Something Great." And while we may not constantly have neon signs that tell us to do better and be more, we are saturated with these messages in our performance-based culture. A culture that has "10 steps to your best self."  We want to justify ourselves because then we can get credit. Even for those of us who claim Jesus and Lord and Savior, we may want to still get some of the credit, some of the glory, to know we are worth it.
But because of sin, even our "virtues" can be sins when we rely on ourselves and not on Jesus.
Flannery O'Connor has a great example of this in her short story, Revelation. In it, the main character Mrs. Turpin sits in a doctor's waiting room, observing and judging the other patients. And because it's a doctor's office, there is a cross section of society because rich or poor, young or old, everybody gets sick. Mrs. Turpin thinks she is a respectable woman, and reflects that
"To help anybody out that needed it was her philosophy of life. She never spared herself when she found somebody in need, whether they were white or black, trash or decent. And of all she had to be thankful for, she was most thankful that this was so. If Jesus had said, "You can be high society and have all the money you want and be thin and svelte-like, but you can't be a good woman with it," she would have had to say, "Well don't make me that then. Make me a good woman and it don't matter what else, how fat or how ugly or how poor!" Her heart rose. He had not made her black or white-trash or ugly! He had made her herself and given her a little of everything. Jesus, thank you! she said. Thank you thank you! Whenever she counted her blessings she felt as buoyant as if she weighed one hundred and twenty five pounds instead of one hundred and eighty"
But at the end of the story, Mrs. Turpin has a vision of a path to heaven, of the final day, in it she sees
"a vast horde of souls were tumbling toward heaven. There were whole companies of white-trash, clean for the first time in their lives, and bands of black people in white robes, and battalions of freaks and lunatics shouting and clapping and leaping like frogs. And bringing up the end of the procession was a tribe of people whom she recognized at once as those who, like her and [her husband] Claud, had always had a little of everything and the God-given wit to use it right. She leaned in to observe them closer. They were marching behind the others with great dignity, accountable as they had always been for good order and common sense and respectable behavior. They alone were on key. Yet she could see by their shocked and altered faces that even their virtues were being burned away.
Even their virtues were being burned away as they entered heaven. Even our best efforts will be burned away apart from Christ. Because it is only his blood that can atone for our sins.
In the words of Martin Luther, in the Heidelberg Disputation, "The love of God does not find, but creates, that which is pleasing to it."
Saints are saints, we are saints not because there is anything "lovable" in us but because of the riches of God's grace. Do you know what that means? It means that God loves you, God loves me, not because of anything we've done or on how we've "performed." It means that when we are at the end of our rope, when sin seems ever present, in the dark nights of the soul, when we can't even love ourselves, that God loves us because he is gracious. As Jesus says in Luke 6:35 God, the Most High, the creator of the universe is kind to the ungrateful and evil. Jesus came not to save the "righteous" but sinners. Even at our worst, when there is nothing good in us, Jesus reaches down.
But saints don't only just bewail their sin and recognize their fallenness, however. Ephesians and Revelation shows us that
A saint is someone is clothed in the righteousness of Christ, who soaks their robe in the blood of the Lamb so that they can be made clean and be made new. As they abide in Christ, they are also able to fully live in the world while longing for Jesus to come again.
Ephesians shows that not only are we adopted into the family of Christ, but we become heirs and we obtain the inheritance of eternal life that we don't deserve. Paul writes in verses 13-14: "In him you also, when you heard the word of truth, the gospel of your salvation, and believed in him were sealed with the promised Holy Spirit, who is the guarantee of our inheritance until we acquire possession of it, to the praise of his glory"
The Father, Son, and Holy Spirit, all act in one will to save us (because they are One God), with each performing their unique roles. The Father sent Jesus Christ to live the life we couldn't because of our sin, to die as a sacrifice for our sin, and to be resurrected to destroy even death, the consequence of our sin. When the Father looks at us, he sees us in his Son, and that's why he rejoices in his saints as his "inheritance." And we are united to Jesus by the power of the Holy Spirit. The Father and the Son send the Holy Spirit to seal us and give us his power. The Holy Spirit gives us the assurance or a "down payment" of eternal salvation as he unites us to Christ.
And we are united to Christ through his blood that covers our sin, that makes us whiter than snow. In Revelation 7:14, John writes that the saints have washed their robes and made them white in the blood of the Lamb. They are able to worship God and come before his throne because they are in Christ, they have put on his righteousness. They aren't thrown out of the wedding feast like the man in Matthew 22 because Christ has clothed them in his righteousness.
But this salvation, this renewal, is not something that is  the distant future but it breaks into the present. Paul reminds the Church in Ephesians 1:18-20 that God gives us, gives you his Holy Spirit so
that you may know what is the hope to which he has called you, what are the riches of his glorious inheritance in the saints, 19 and what is the immeasurable greatness of his power toward us who believe, according to the working of his great might 20 that he worked in Christ when he raised him from the dead and seated him at his right hand in the heavenly places. far above all rule and authority and power and dominion, and above every name that is named, not only in this age but also in the one to come.
We can live in the present while looking towards future glory, empowered by the Holy Spirit, with the hope that Christ is ruling over all creation and that he will come again to wipe away every tear. We are able to actually believe and live the Sermon on the Mount not because we need to merit anything or to prove ourselves but because we know that what we see in the world is not the end all, be all and because we know that Jesus has already done all that is needed and has clothed us with his righteousness.
When our hope is in Jesus we can "call a thing what it is" while also knowing that it isn't all there is. We can live in this broken world, we can actually be present in it, because we know that it is God's world and he is making all things new.
We can mourn without falling into complete despair because we know Christ is with us in pain and that he will make all things right again. As Martin Luther writes in his commentary on the Sermon on the Mount, Jesus says, "blessed are those who mourn and are sorrowful" "Though they do not always show it. They eat and drink with other people and sometimes laugh and joke with them… Christ does not want to urge continual mourning and sorrow. He wants to warn against those who seek to escape all mourning and to have nothing but fun and all their comfort here.
But do you believe this? Do you really believe that everything will be made new, that Christ is actually ruling right now? It can seem difficult to believe when our loved ones get cancer or are hospitalized, when depression sucks away our happiness, when loved ones abandon us or die. Or maybe when our dreams and plans for the future fall apart. Maybe it's not getting into a PhD program, not being married when it seems all your friends are getting married, or you are married and it's miserable, maybe your spouse can feel like a stranger.
I know it can be hard for me to cling to the hope of Christ's rule and reign when I'm at my field placement. When I see people, created in the image of God, mistreated by their government and by other people. When I sit with someone who has known poverty and discrimination for longer than I've been alive.  When every door seems to shut and there's nothing I can do to make it better.
So while we long for Christ to come again, we know that he is working still and using us, through the power of his Holy Spirit, to bring his light into the world. And we don't do this because we need to prove ourselves but because Christ has given us new eyes, a new vision for the world as we abide in him. Which brings us to the last point–
A saint is a person dwells in Christ and lives into him. They are able to love and serve their neighbor not because they are "great" or think they're great, but because they esteem the other person as greater than themselves

.
Paul continues in Ephesians at verse 22
22 And he put all things under his feet and gave him as head over all things to the church, 23 which is his body, the fullness of him who fills all in all.
The Holy Spirit not only empowers us to remember our hope in Christ and his power over all things but God sends his Holy Spirit to us so that we can be his body in this world, proclaim his good news, and invite others into him. When we are baptized, we are not merely baptized into a local congregation but we are baptized in the name of the Father, Son, and Holy Spirit and into the universal Church, the fellowship of saints. When we abide in Christ, we also are united with other believers who abide in him too, both those here on earth and those who have gone to be with Christ in heaven.
And as we cling to Christ, we are made new. The Holy Spirit unites us to him and continues to shape us in his image. As Henri Nouwen writes, "the spiritual life is not simply a way of being, but also a way of becoming." While we rest in Christ's righteousness, we also are free to become more like him by loving and serving our neighbor.
Paul writes that the Church is Christ's body. The church is the fullness of God not because it fills Christ but because Christ fills it while he also leads it. As Christ's body in the world, we are called to love and serve our neighbors and to bring others into his body.
This means we don't just gather together in a holy huddle and build strong walls to keep sinners out. As chosen people of God, as people who know that we are only saved by grace, we also extend that grace to others. As Nouwen writes, "To be chosen as the Beloved of God is something radically different. Instead of excluding others, it includes others"
The vision of heaven is one of
a great multitude that no one could number, from every nation, from all tribes and peoples and languages, standing before the throne and before the Lamb, clothed in white robes, with palm branches in their hands, 10 and crying out with a loud voice, "Salvation belongs to our God who sits on the throne, and to the Lamb! (Rev. 7:9-10)
Therefore, as Christ's body on earth, we gather together only to be refreshed in order to go back out and bring more people in. St. Bernard is quoted as saying that whenever he was among people, he was defiled. We read of monks who cloistered themselves up in order to stay pure. But as people of God, made righteous by Christ, and as Christ's body, we are not defiled when we are among people. Rather, through the power of the Holy Spirit, we are called to, like Jesus, make clean those who were once defiled. To show those who seem filthy and no-good where they can be washed and fed–and that is in Christ.
So who is the "no-good sinner" that you are afraid of bringing to the table? Maybe they don't even seem like a "no-good sinner" but just someone who is hard to get along with and hard to love. Maybe it's the homeless person who may smell kind of off, the rich person who seems arrogant, the ultra conservative or the radical liberal, or maybe it's even someone in your own family? I know I struggle with this a lot in my job and in other areas of my life.
But today, I pray that we all see the neighbor not as someone who's an annoyance or an obstacle but as someone Christ longs to rescue. As Jesus tells his disciples, and to us,
 "If you love those who love you, what credit is that to you? Even sinners love those who love them. 33 And if you do good to those who are good to you, what credit is that to you? Even sinners do that. 34 And if you lend to those from whom you expect repayment, what credit is that to you? Even sinners lend to sinners, expecting to be repaid in full. 35 But love your enemies, do good to them, and lend to them without expecting to get anything back. Then your reward will be great, and you will be children of the Most High, because he is kind to the ungrateful and wicked. 36 Be merciful, just as your Father is merciful (Luke 6:32-36)
Flannery O'Connor's character sees "battalions of freaks and lunatics" entering into the kingdom of heaven, jumping and leaping for joy. And, on this All Saint's Day, I think we must remember that the kingdom of heaven is open to all believers, even those who may not look like what we picture a "saint" to be.
And when we're honest, we are those freaks and lunatics, we are sinners who just can't get it right. But we are also precious children of God, even when we feel more like sinners than saints. When the world tells you to "be great," to be more, to prove yourself, remember that Christ has already done everything that needs to be done. That you are free to love and serve your neighbor and to bring others into sainthood through Jesus Christ.
And one day, we are all going to be with him, in a world made right, a world made new, where we will hunger and thirst no more. But until that day comes, or he takes us home, we will proclaim his death and resurrection, as his Body here on earth as we partake of his body at the table.
Amen.
Link to Johnny Cash's "Help Me"